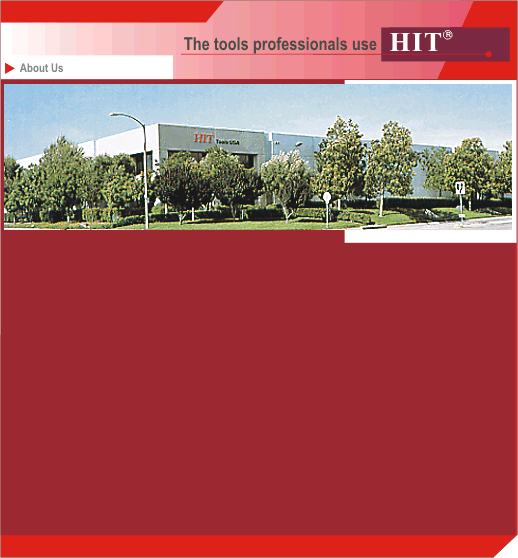 HIT'S HISTORY
HIT manufacturer has been making Hand Tools in Japan since 1937. At the beginning, HIT only manufactured Adjustable Wrenches and Bolt Cutters. Today HIT diversifies itself worldwide and becomes one of the world's leading manufacturers of professional-quality Bolt Cutters, Rebar Cutters and other Hand Tools.

HIT STRIVES FOR QUALITY
It's not just a Cutter, it's HIT. Because HIT cuts faster and more durable. If HIT tools is known for something, it is "quality". The HIT name on the products represents the manufacturer's promise that every tool is made to the highest possible standards, and exceeds Federal Specifications. The Red Blade Bolt Cutter can cut the material hardness up to HRC-48.

PRIVATE LABEL AVAILABLE
Today HIT tools OEM private labels for over 48 named brands around the world.

PROFIT TO THE DISTRIBUTOR
Along with outstanding products and service, HIT Tools maintain the most competitive pricing to cut the distributor's cost.

PROMPT SHIPPING
HIT has no red tapes in processing and shipping your order. We maintain maximum inventory at our 120,000 sq. ft. North American Distributor Center with a 99% order filled in 24 hours.